After a few too many pan galactic gargle blasters it's time to dig out the ol' Arcturan UltraTheremin and rock out on Squornshellous Zeta until you pass out on a living mattress.
I built this as a learning project to figure out how to map Konkreet Performer's nodes to voices in Reaktor. If you're interested, you can download here – you'll need an iPad and Konkreet Performer to really make use of it. (It also works with TouchOSC – layout included in download – if you don't mind a slightly less freakish playing experience)
[soundcloud url="http://api.soundcloud.com/tracks/13024702"]
Here's how it works – set Konkreet up with three nodes and a ribbon. The three nodes control pitch and intensity. Angle from left to right is mapped to pitch, and proximity to the center node controls vibrato depth, rate and filter resonance. As pitch increases, the filter cutoff and pulsewidth also change.
The ribbon at the bottom controls voice fanning – in the center position, all voices are centered. At left and right, the voices fan out so that voices one and three are panned out left and right, respectively. Try it and you'll see how it works.
There's also a pitch correction macro so you can select a key and scale type to play in tune with a track. Enjoy, and link me up if you make some interesting noise with it.
And you probably thought the polyphonic theremin was a joke!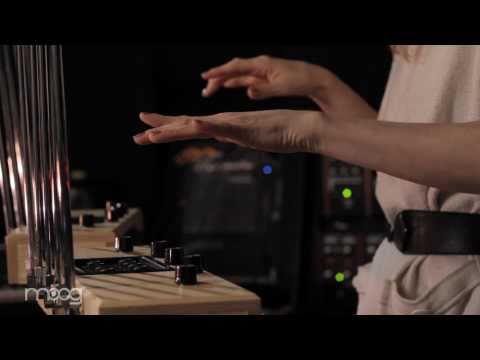 BTW, if you're interested in using Reaktor with this kind of touch surface, please vote on my poll at Reaktor Tips.